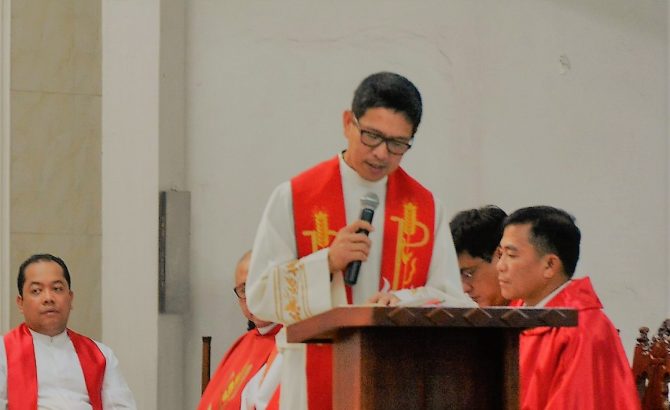 Chaplain to the Filipino community here in our Diocese, Father Herbert Fadriquela has been appointed a Member of the Chapter of Canons of the National Cathedral in Manila, Philippines.
Appointed to the role by the Iglesia Filipina Independiente (Philippine Independent Church), Father Herbert will continue his ministry and has been congratulated on this honour by Bishop Martyn.
The Philippine Independent Church is in full communion with the Anglican Church, and the national cathedral in Manila is the equivalent of Westminster Abbey.
Fr Herbert, who is also Port Chaplain at Felixstowe with the Mission to Seafarers, said: "Being installed as a Member of the Honorary Canons of the National Cathedral of the Iglesia Filipina Independiente was a great event in my life as a Priest over the last 25 years.
"Being an Honorary Canon recognized and affirmed my ministry of faithful witness to God's love in the world and my response to the call of Jesus to follow him through the task of being a Chaplain to the Filipino Community in Leicestershire as well as Port Chaplain at Felixstowe. It is my calling to work alongside Filipinos in diaspora and other migrants of various nationalities in their journey towards meaningful, humane and abundant life."
Father Herbert has recently travelled to the Philippines to attend the Overseas Chaplains Conference, the National Clergy Convocation and his Induction and Commissioning Rite held at the National Cathedral.