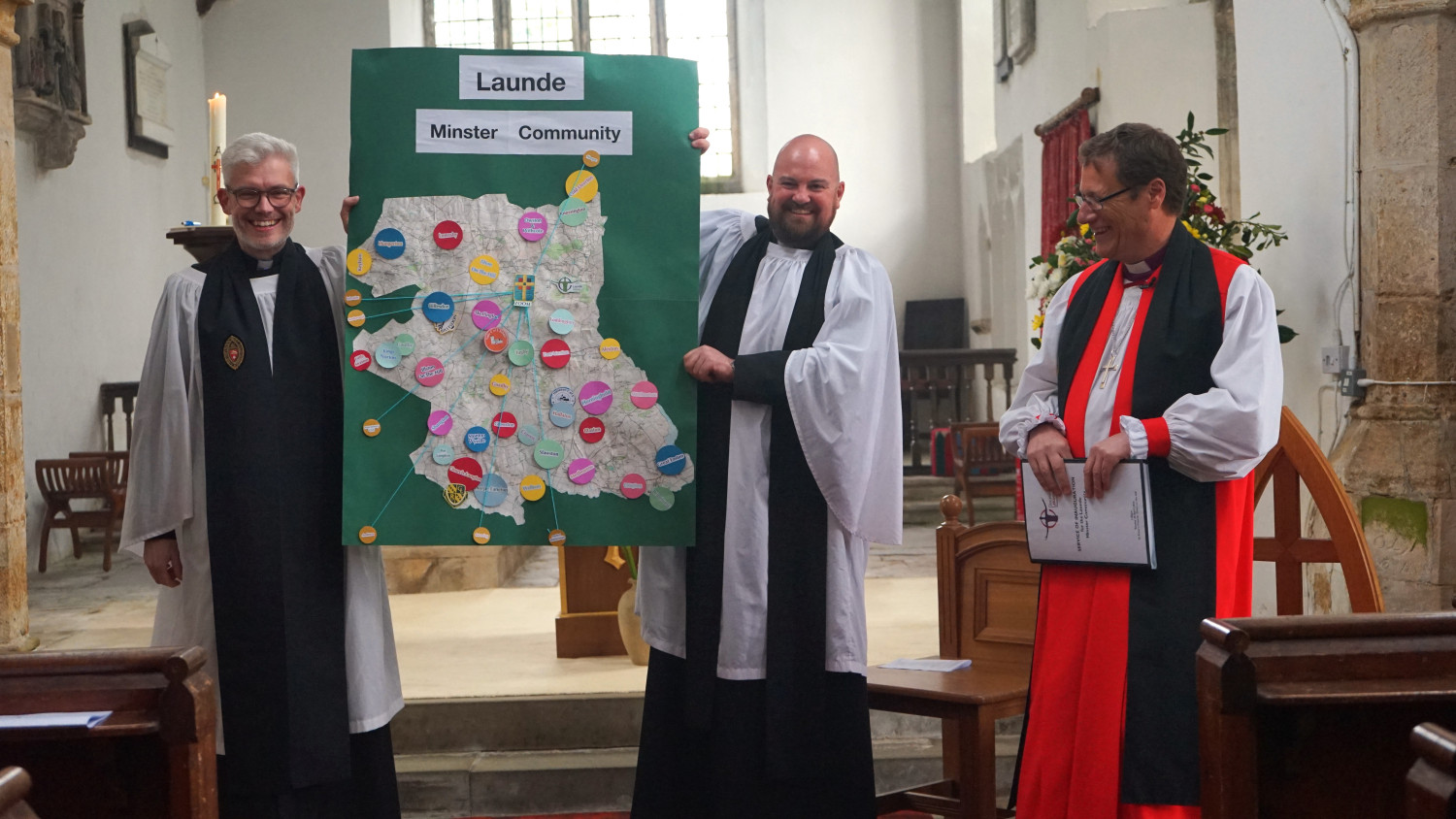 In an historic moment for the Diocese of Leicester, the first Minister Community was officially launched on Sunday (30 April) with a celebratory service of inauguration for the newly forming Launde Minster Community.
The church was filled with happiness, hope, and the Holy Spirit, as the communities of eight benefices came together in St Peter's Church, Tilton on the Hill, for the occasion.
Bishop Martyn led the service, which included the commissioning of the community's Oversight Minister, Revd Jonathan Dowman.
The day marked an important milestone on the journey to establishing a Minster Community and follows many months of prayer, conversation, and discernment of God's leading.
In his preface, Bishop Martyn explained what a Minster Community was and talked about how the beginning of a new ministry is an important event for the whole community.
More than 100 people attended the service, in the church and online, including representatives of the wider community, local schools, as well as church family members from across the area's congregations, fresh expressions, and Zoom service.
During the hymn In Christ Alone (my hope is found) people from all these spheres brought forward pieces to assemble a jigsaw puzzle map of the new Minster Community area.
The readings, from Jeremiah 29. 4-14 and Acts 1. 1-11, were chosen as an expression of what has gone before, and what lies ahead, with Bishop Martyn's sermon leaving the congregation with four simple principles for navigating a new culture, drawn from the Acts scripture.
In his inspiring and thought-provoking address, he said: "You are the first – the pioneers – many more will follow by the grace of God."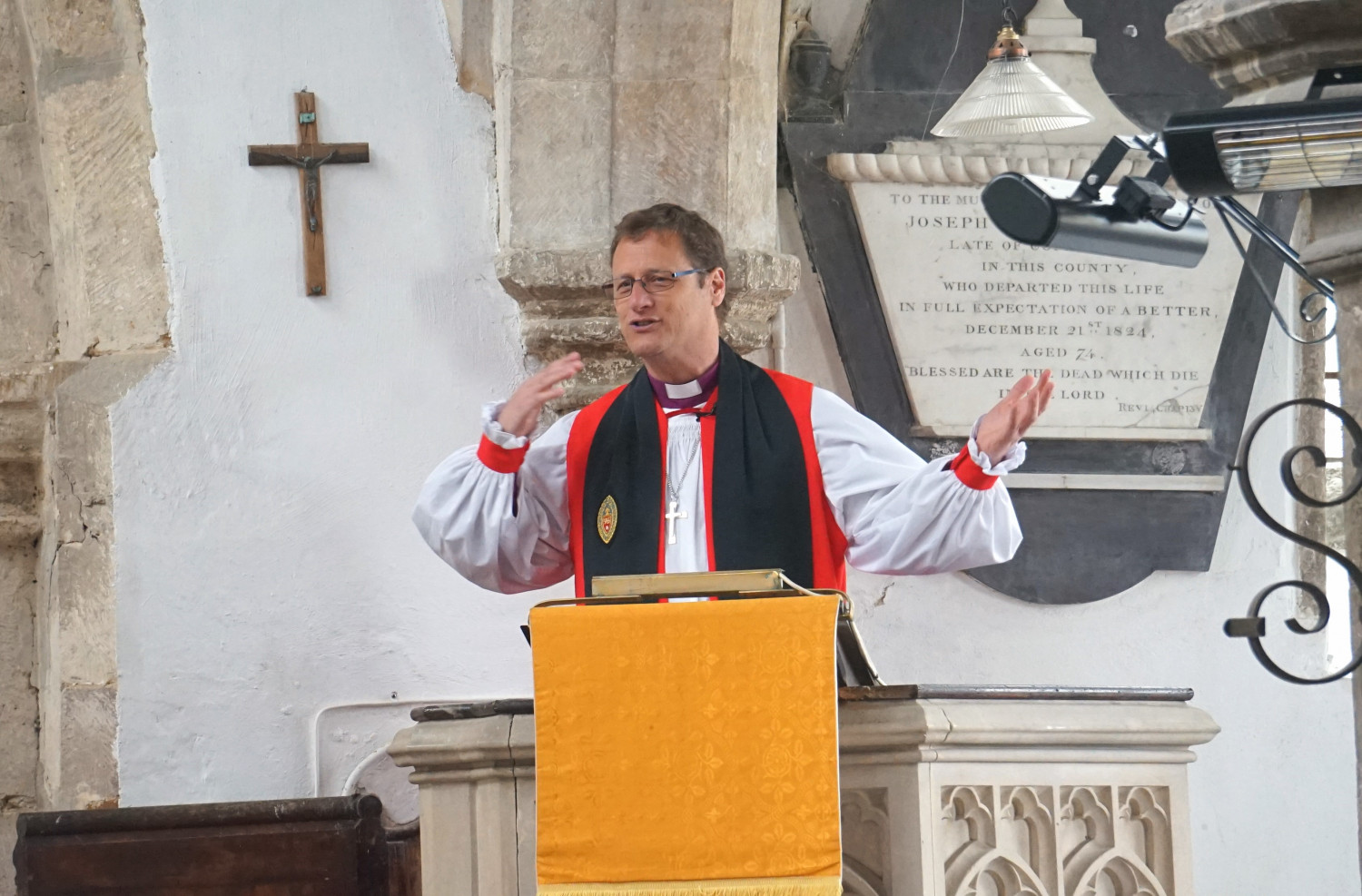 He talked about his experiences of adapting to life and work in Guinea, West Africa, and how we need to explore what it means to be Church, now, in our own day and age, 'where fewer people own the name Christian'.
He said: "The opportunities are huge, the possibilities unending, if we are prepared to be humble and learn what it means to be church in the 21st century… I leave you then with four simple principles of navigating a new culture, all drawn from our reading in Acts 1.
"Letting go… Letting go of our own culture is often the hardest part of the journey, but without it we cannot understand and embrace a new way of doing things.
"Being sent… So we are called to look outwards to be his witnesses in our homes, our communities, our workplaces, our schools.
"Living with uncertainty… There is no precise road map for the future, just as there is no precise description of a new culture. We trust in God to lead us.
"Receiving God's Holy Spirit… You will receive power when the Holy Spirit comes upon you. What is impossible for us, on our own, becomes possible when we are filled with God's Holy Spirit.
"One day we will look back and see how far we have come and how much we have learnt, and future generations will thank us for being bold enough to journey to an unknown land."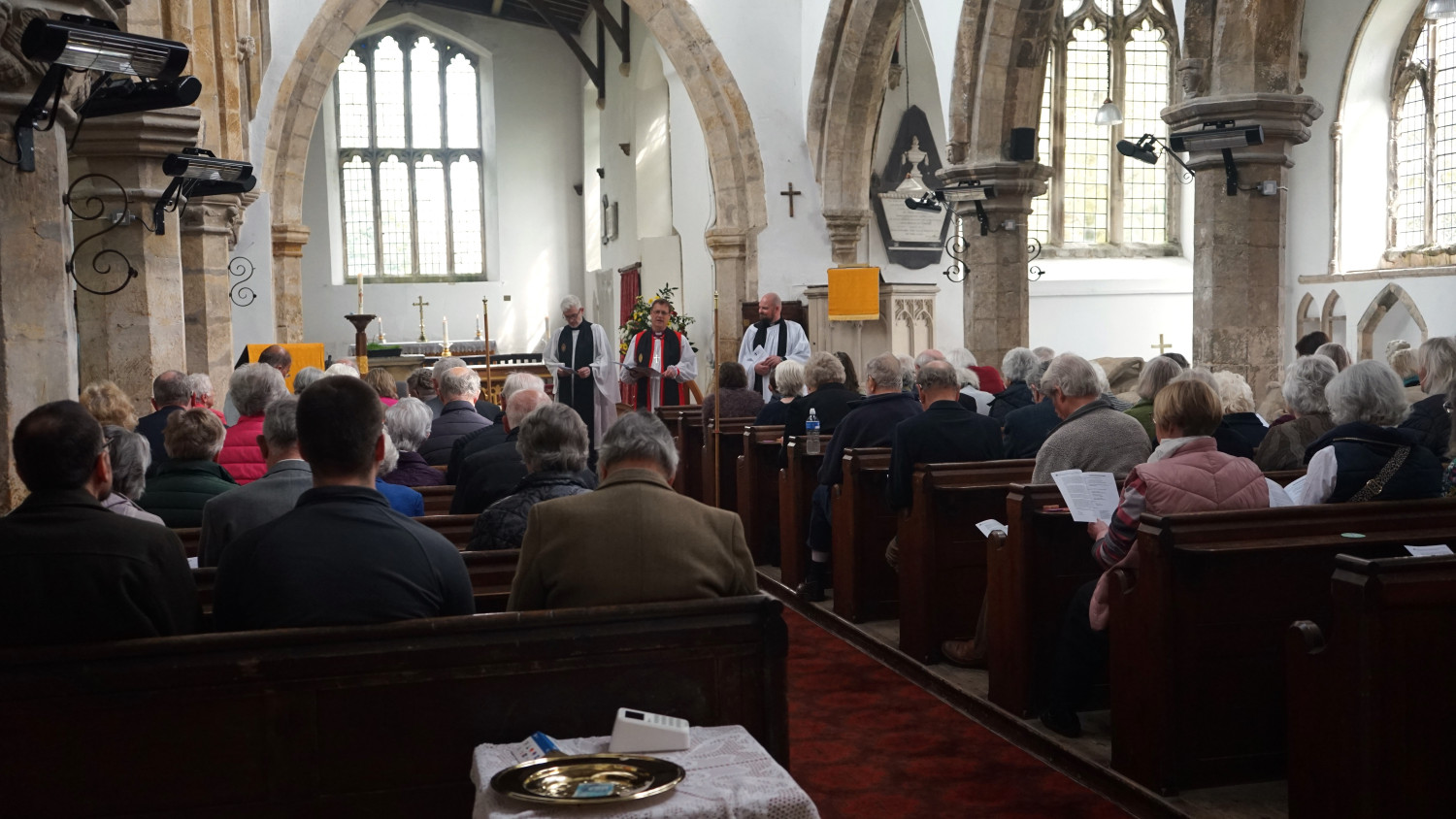 During the commissioning, the Bishop invited all from the Minster Community to stand, and asked: "People of God in this Minster Community, you are the Body of Christ, and the body is only healthy when each part is working well with every other part. Will you commit to work in partnership with each other and to share in the work of ministry and service together?"
Revd Jane Lewis, priest-in-charge of The Whatborough Parishes benefice, and Revd Alan Humphries, Co-Area Dean of Launde, lead the congregation in prayers.
And, as the service drew to a close, everyone was encouraged to pick up the holding crosses provided and dedicate themselves anew to Christ.
Following the worship, refreshments and cake were served, while people chatted and shared their hopes and fears for the future.
In the Minster Community process everyone has a choice, PCCs have a choice, and in Launde, they have formally committed to this process.
Facilitator for the Launde Minster Community process, Shayne Ardron, said: "It's quite amazing that we've got here, with all the different ups and downs, and the service captured some of that journey and the challenges that lie ahead, which was really encouraging.
"I think Bishop Martyn expressed it really well, in that we're going into something unknown, we don't have the answers, all we can do as Christians is put our hands into God's hand and go where God leads us," she continued. "That's something of where we've got to, in realising what gifts we've got to bring to this journey, and are we prepared to share them so we can all join in together?"
Newly commissioned Oversight Minister and Co-Area Dean, Revd Jonathan, is feeling hopeful for the future, ready to lead the Minster Community alongside his Growing Faith role in churches, households, and schools. "It feels the next natural step," he said. "The easy part has been done, the harder work and how we work together, how we share what we've got, step out in mission, and tackle some of the bigger questions our churches are looking to ask - that's the hard work. We carry what has gone before and await the gifts of the Holy Spirit."
Philip, who worships in Tugby, is also a governor of the village primary school. He said: "It's an interesting and exciting journey and we are beating a path and showing how it's going to be done. The church is evolving - nothing stays the same - and we have to evolve with it. This is the step forward we've elected to take and I think Bishop has really helped us, and his enthusiasm and vision will lead us."
He added: "It's staggering that we have 23,000 children in our diocese, and Tugby school is just a stone's throw away from the church. Now we're out of Covid, and school is comfortable in coming back into the church, it's a lovely synergy."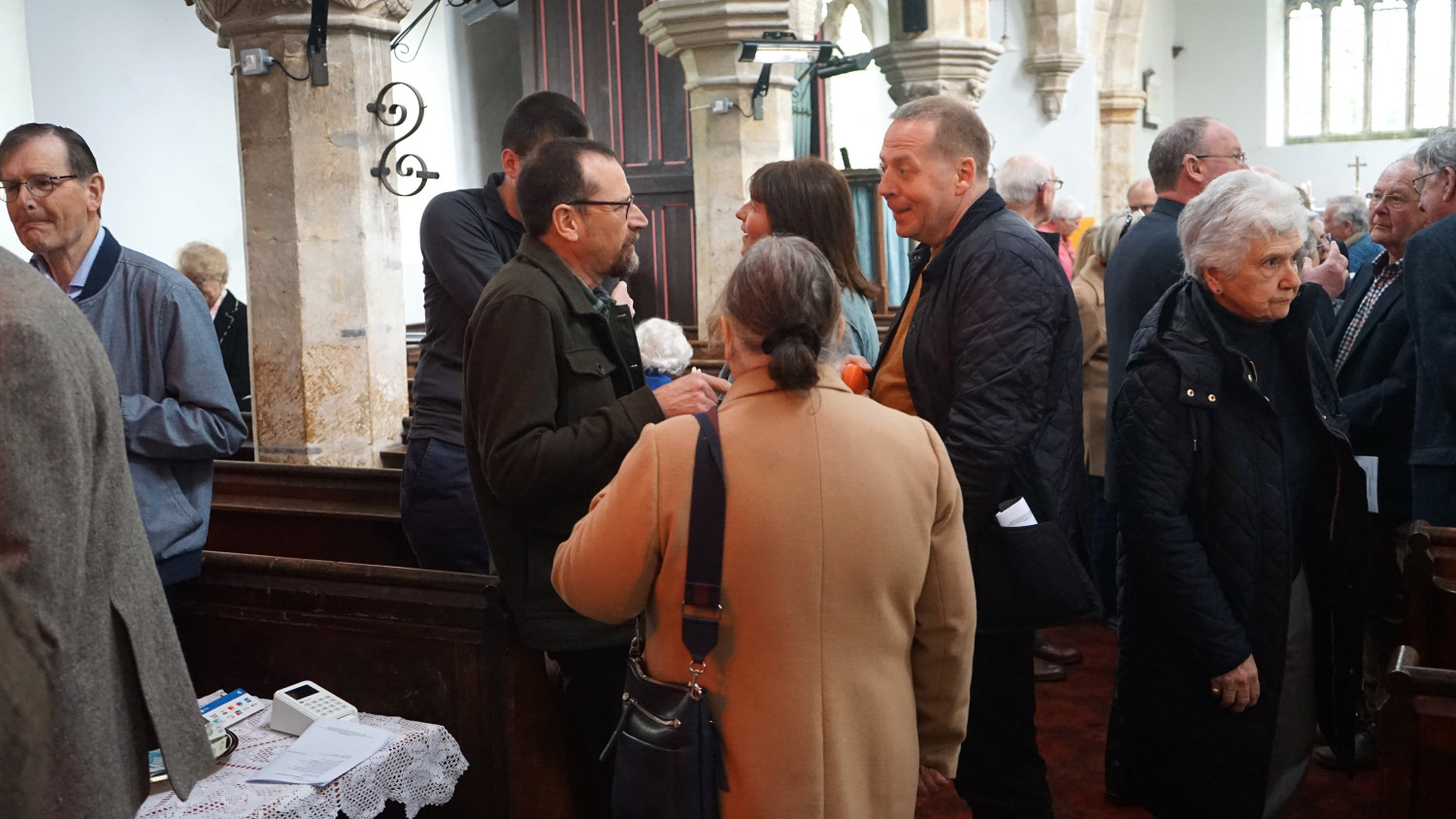 As a small, rural community, without a vicar for some time, laity have continued to run their own services, Philip said: "People come to church not only to pray, but as an opportunity to meet up with people. Events like this - people talking, meeting, making friends – is every bit as important because God is with us as we're here."
Hilary, Reader in the Gaulby Group, and member of the Minster Community Steering Group, finished by saying: "The service today has been awesome; not only was the church full, but we also had members who couldn't be here from our Zoom congregation, online. This may be the end of the beginning, but it's a continued adventure in Christ."
Click here to read Bishop Martyn's sermon in full.
To see more photos from the event, go to our Facebook page: https://www.facebook.com/media/set/?set=a.616408027197978&type=3