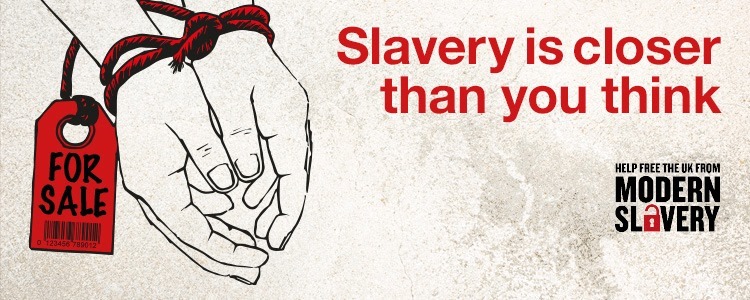 Recent statistics show that Leicester has one of the highest rates of exploitation of workers in Europe with an estimated 10,000 people working in these conditions. In 2020 there were 223 reports of slavery and human trafficking in Leicester.
Margaret Rouse (Mothers' Union and Modern Slavery lead on the Diocesan Social Responsibly Panel) and Kat Gibson (Intercultural Pioneer Minister in the diocese) were both very passionate about the issue of modern slavery and came together with a group of others to form 'Christians in Leicester and Leicestershire Against Modern Slavery' - a group who long to see modern day slavery eradicated from our communities. The group is formed of Christians from the locality who come from a cross section of Christian and professional backgrounds.
One of their main aims is to increase awareness in our churches of the prevalence and ubiquity of modern slavery, and equip local Christians to notice potential signs of slavery. As Kat explains, 'If you suspect something, it's important to log it with your parish safeguarding officer and the Diocesan Safeguarding team just in case, as each small bit of information is a jigsaw piece that helps the police and agencies put together a clear picture with enough evidence to act.' But it can be very difficult to know what to look out for. Kat goes on to say 'It can be hard for many of us to see what is hidden in plain sight. Signs include people who have no access to their own passport or bank account, individuals who seem to have a fear of deportation and distrust of the police or authorities. It can also be that they are unable to travel alone, being dropped off or collected at night. If we keep our eyes open we may be able to spot these elements of fear or distrust. Or another example could be that we notice lots of young people living together in a dishevelled building."
One action we can all take is to think about what we buy. As consumers we have power. If something is incredibly cheap, then it is important to think where it has come from and what the price tag reflects. CLLAMS are running a campaign in February to coincide with Fairtrade Fortnight highlighting the importance of understanding supply chains and the need to buy from companies that are open about where their products are made and sourced. Look out for this on diocesan social media channels.
The group also engages with charities, local agencies, representatives from retail and manufacturing and the police through the LLRMSAG (Leicester, Leicestershire and Rutland Modern Day Slavery Action Group).This group informs CLLAMS of the latest developments across the region and gives them the opportunity to offer a Christian perspective.
CLLAMS have sent a mailing to every parish with information, a prayer leaflet, contact details and a poster to display in their buildings from The Clewer Initiaive. The group are also collating digital resources to send out soon. Parishes and individuals can engage in the conversation through CLLAMS Facebook page.
You can also read an address that Maraget made to Diocesan Synod regarding this subject in September 2020, here.
If you'd like to learn more about modern slavery click here for a list of helpful website, articles and resources.