As the period of national mourning for Her Majesty Queen Elizabeth ends, Bishop Martyn thanks our churches and worshipping communities for all their efforts and shares sermon notes from two of the civic services.
Both the Bishop of Leicester and the Bishop of Loughborough wish to thank clergy, lay ministers and volunteers in all our worshipping communities who responded so well to the death of Her Majesty. Many churches immediately opened for prayer and for people to sign books of condolence, provided extra services and pastoral care, tolled bells and reached out; in many cases they provided real focal points for the community around them, enabling people from all walks of life to come together and journey through this unique time of grief and change.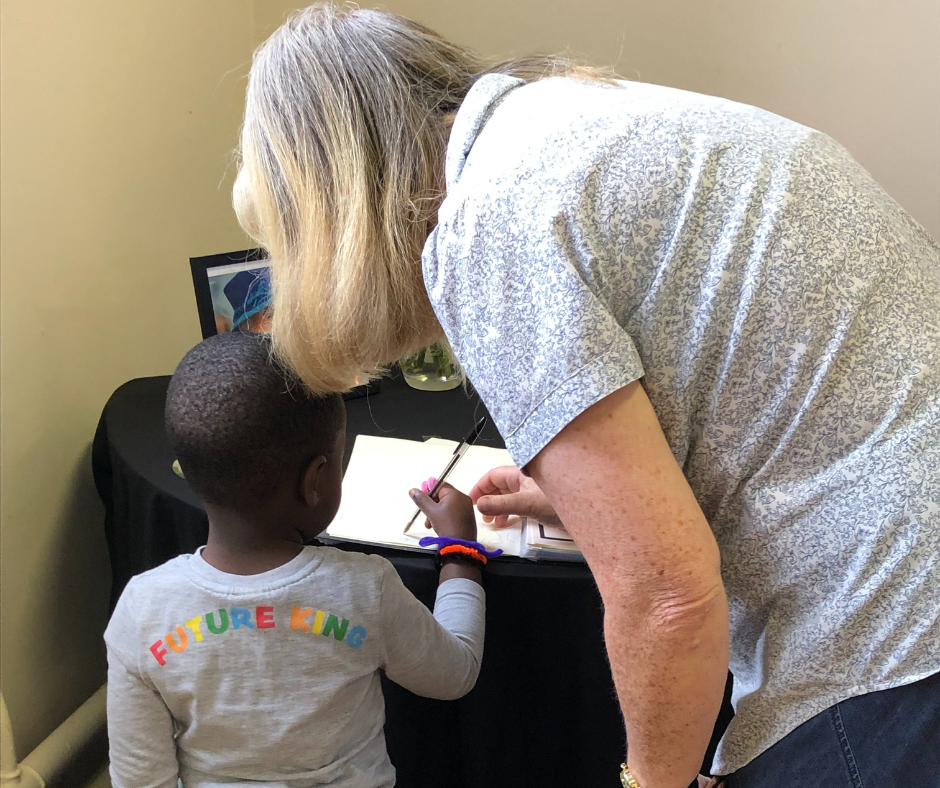 This moving photo shows a boy being helped by his Grandmother to write his name in the Book of Condolence at Christ Church, Thurnby Lodge, Leicestershire.
During the mourning period Bishop Martyn encouraged churches, aware that many were already responding to our call to serve everyone in our communities, with a video message that was sent to churches (watch again here). The bishops have also pledged to support churches, especially with offers of preaching and leading services for churches currently in vacany (without their own incumbent clergy person at this time), realising the burdens that are on those worshipping communities.
There have, of course, been a series of civic services around the diocese but after requests for them to be shared, we are providing the notes from Bishop Martyn's addresses at two civic services attended by the Lord-Lieutenant of Leicestershire. One was at St Mary's in Melton Mowbray and the Cathedral service led by the Dean of Leicester at St James the Greater Leicester both of which were held on the eve of the state funeral of Her Majesty. You can read about the Cathedral's civic service here and watch back the whole Service of Commemoration and Thanksgiving for Her Majesty The Queen here.
Both of our Bishops and the Dean of Leicester, David Monteith, issued public tributes and undertook many media interviews paying respect to Her Majesty during the mourning period, and a social media post by Dean David on the day of her state funeral, accompanied by a photo of The Queen laughing with him on one of her visits to Leicester Cathedral, summed up the emotions that many of us share: "For all that has been - thank you."