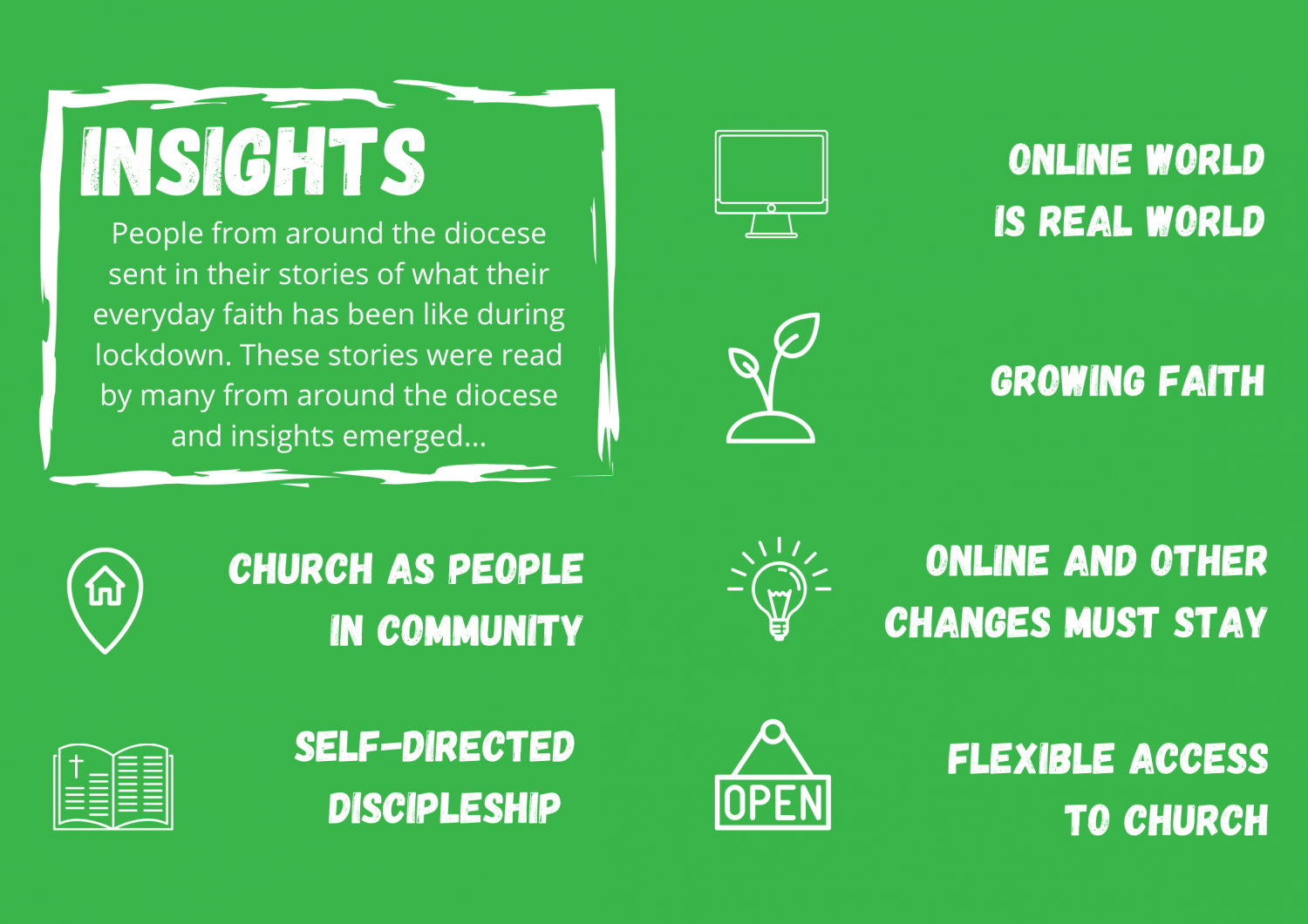 People from around the diocese sent in their stories of what their everyday faith has been like during lockdown, as part of the Shaped By God Together Process. These stories were read by many from around the diocese and insights emerged...
Self-directed discipleship – the stories highlighted a growing understanding of what it means to be an everyday follower of Jesus, and an awareness of the importance of faith as a daily reality as well as a Sunday ritual.
Flexible Access to church - A number of disabled Christians reported that they have felt more included than at any time previously, and those who struggle for work or family reasons with needing to be present at a particular time on a Sunday morning have also benefitted.
Church as people in community – Although people are missing their familiar buildings, many report that their faith is becoming much less building dependent or building focussed. The altar and pulpit have moved into the home.
Online and other changes must stay- There was a recognition amongst a number of contributors that the church cannot afford to lose some of what it has learnt and gained during what in other ways has been a time of loss. Church in the future should be a hybrid of what we previously knew and new ways of engaging with our faith.
Growing Faith- For some the experience of lockdown was one in which their personal discipleship and confidence in their faith had grown. A number reported that they had started worshipping together as a family in new ways in the home during lockdown. Others had a heightened awareness of the need to demonstrate God's love to their neighbours.
Online world is real world - Among some respondents there was the feeling that our previous definitions of what is "real" (ie physical presence) need to be revisited and the divide between them seen as less stark. Is something necessarily less real because it occurs online?