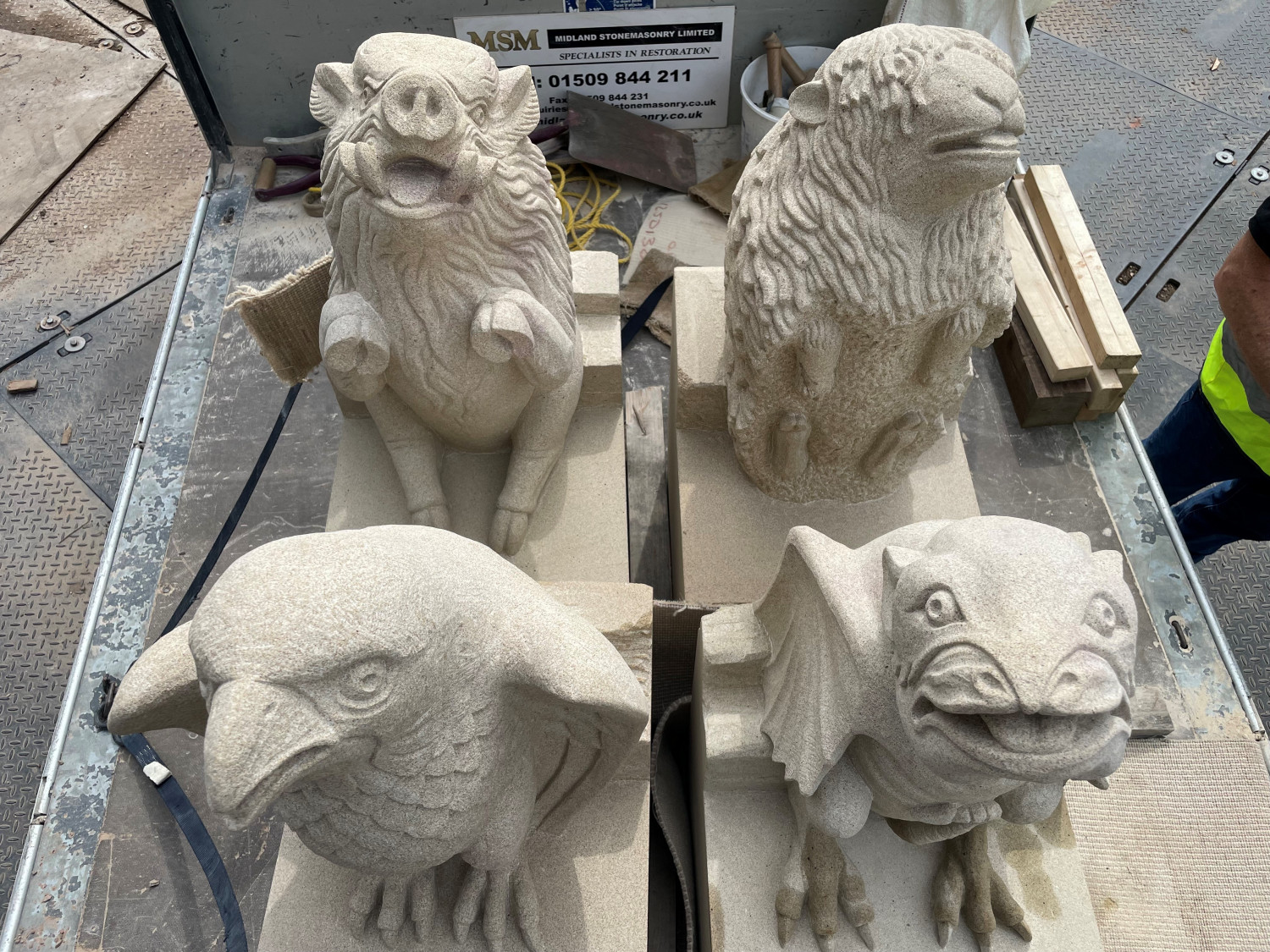 Four new stone grotesques have arrived at Leicester Cathedral ready to replace old, weather-worn ones as part of the renovation work. The Leicester Cathedral Revealed project includes the repair and restoration of external stonework on the south face of the building.
As part of that work, these new carved creatures will be installed as an integral part of the parapet wall: White Boar; Peregrine Falcon; Wyvern and Leicester Longwool Sheep.
Project Manager for Leicester Cathedral Revealed, Simon Bentley, said: "The grotesques are an integral part of the repair and restoration of external stonework on the south façade of the cathedral. Whilst it will be late 2023 before all the Cathedral Revealed work is complete, we are making real progress and when these carvings are visible on the building in a few weeks' time, we hope they will be an encouraging sign that our cathedral has an exciting future and will continue to be the beating heart of our city and county."
The grotesques are made of Peak Moor stone from Derbyshire and replace eroded Victorian sandstone ones. They will complement the fox and tiger grotesques installed in 2018.
Skilled stone carvers from Loughborough firm Midland Stone Masonry, who created the fox and tiger grotesques, have carved the new ones, applying a similar style and expression to form a 'family' of grotesques on the south elevation. The fox and tiger were designed by Irish artist Phoebe Cope. The latest four have been designed and carved by skilled sculptor/carver Alan Necchi.
The old, weather-worn gargoyles which were eroding have been removed and are now on the ground. They will be stored safely by the cathedral.
Specially-invited guests with a connection to each grotesque design attended the cathedral construction site to see the newly arrived carvings:
White Boar – King Richard III Visitor Centre's Iain Gordon
Peregrine Falcon – Leicestershire and Rutland Ornithological Society's Jim Graham
Wyvern – Leicester City Council's Cllr Ted Cassidy
Leicester Longwool Sheep – Leicester Longwool Sheep Breeders Association President, Thomas Cole, and Malcolm Britton, an Honorary Canon of the Cathedral who represents rural churches in Leicestershire and supports Brooksby Melton College where farming and animal husbandry is studied.
See the Leicester Cathedral Revealed web pages here for more detail and the inspiration behind the choice of creatures, as well as photos (see especially updates for 14th April and 6th May).
The grotesques are funded with a grant from the Culture Recovery Fund for programmes of major works undertaken by specialist builders and craftspeople on churches and cathedrals. Match funding comes from the National Heritage Lottery Fund and Listed Places of Worship Grant Scheme.
Stone carved grotesques are a fascinating feature on many historic buildings and serve to highlight aspects of local culture and history and these new ones will help to reveal the living stories of cathedral and its role as a place of worship, heritage, pilgrimage, hospitality, learning, sanctuary and celebration in Leicester and Leicestershire.