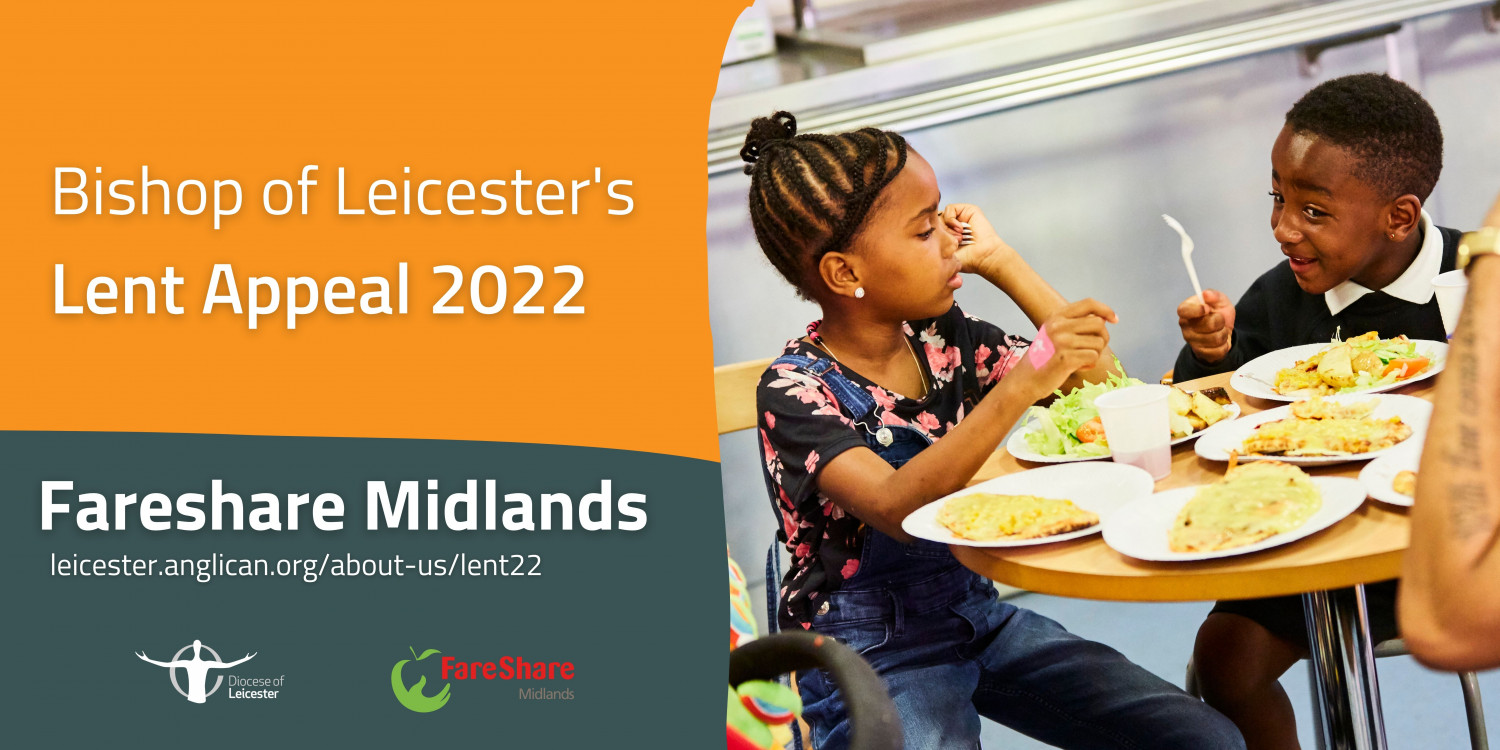 The Bishop of Leicester's Lent Appeal 2022 in Support of FareShare Midlands to Fight Hunger, Tackle Waste and Create Opportunities
More than 8.4 million people in the UK are living in 'deep poverty', struggling to afford everyday essentials including food. At the same time over 6.7 million tonnes of food goes to waste every year. In 2021, FareShare Midlands redistributed 6,242 tonnes on food! Not only has this provided 15 million meals, it has also prevented the waste of 10,000 tonnes of embedded CO2e.
---
Donate here: Bishop of Leicester's Lent Appeal 2022 - JustGiving
Or you can donate by cheque, please post it to. Bishops Lent Appeal – Leicestershire
FareShare Midlands
10, Wilson Road
Leicester
LE18 4TP
---
Across Leicestershire alone 73,893 children are growing up in poverty, food insecurity and inadequate housing. That's 73,893 children who begin life disadvantaged and often go without food, clothing or basic supplies.
To help fight this and to raise funds to make a substantial difference to the lives of the most vulnerable people in Leicestershire, the Bishop of Leicester has chosen FareShare Midlands as the beneficiary charity of the Bishop's Lent Appeal 2022.
FareShare Midlands is the region's largest food redistribution charity. Founded in 2008, as a project of the Diocese of Leicester, we were set up in response to the refugee crisis that the city was struggling to cope with. Today, FareShare Midlands supplies good quality surplus food to over 550 community groups across the Midlands who tackle hunger and poverty and the root causes of both. Through our network of community groups, we help to feed over 60,000 people every single week. We have an ambition of helping to support over 100,000 people every week by 2024
The Bishop's Lent Appeal will raise money to benefit local people suffering from food inequality, homelessness, job insecurity and poverty in Leicestershire. Every £1 donated will help to create 4 meals for disadvantaged men, women and children. Funds donated will also support those signed up to our employability programmes to gain skills, training and support to help them find work for the first time or after a long absence from the workplace.
Here is how your money can help:
£30 helps provide 120 meals for people experiencing homlessness
£50 helps provide 200 meals at a day centre supporting elderly people and tackling isolation and loneliness
£150 helps provide 600 meals for families using drop in centres or food banks
£450 helps provide 18,000 meals and deliver a van full of food to 6 community groups
Find out more about FareShare Midlands here.